Events
Our events calendar is still being populated. Please check back regularly to see what seminars and events we have lined up.
For more information contact us at info@gusauinstitute.com or call +234 806 955 7940.
15 October, 2020: Webinar | 2020 Abuja Forum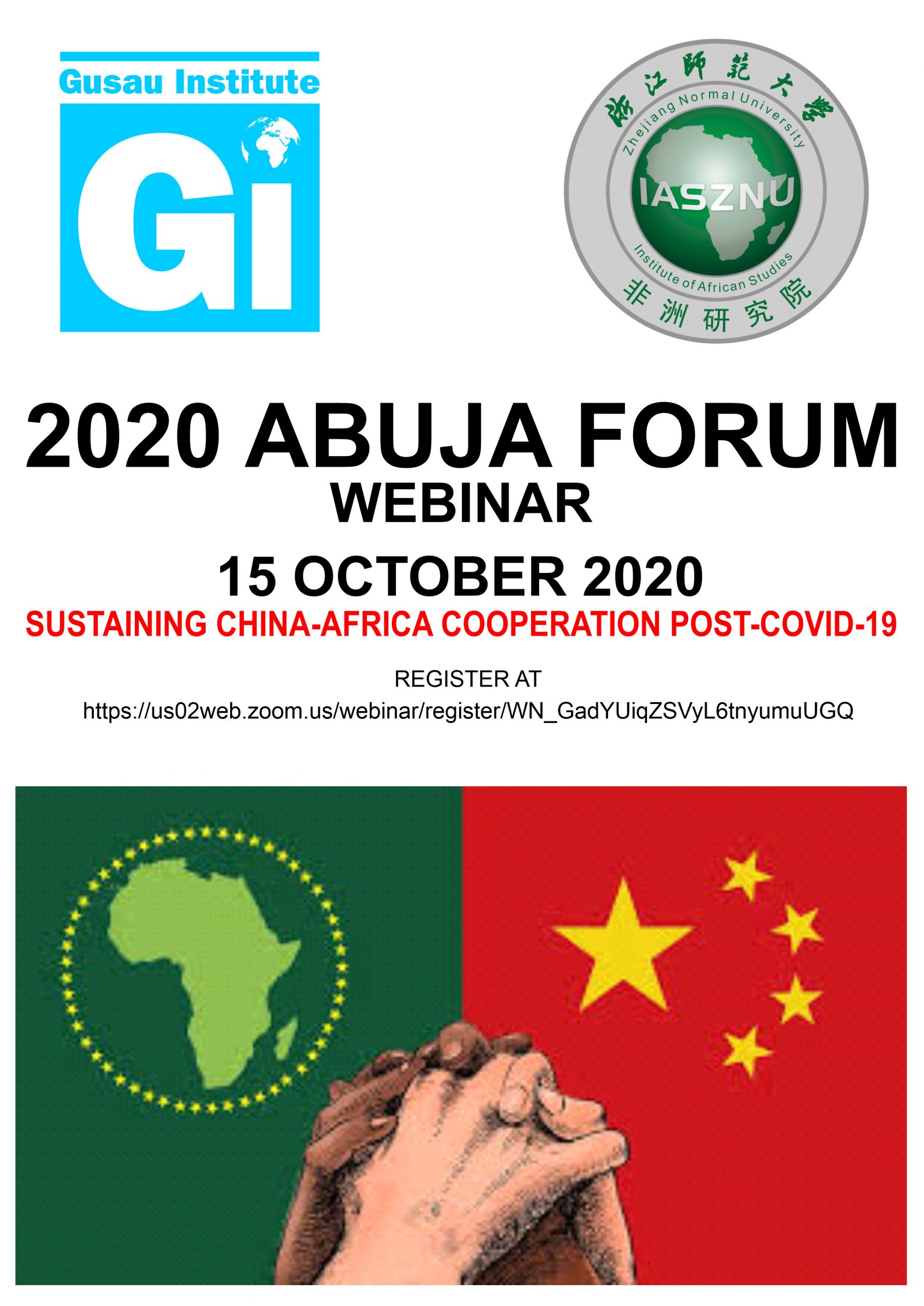 Sustaining China-Africa Cooperation Post-Covid-19
28 June, 2020: Webinar | From Rhetoric to Concrete Action: Devising a Roadmap for Reforming the Almajiranci System
Event information
The GI in collaboration with Noor Takaful Insurance and Ahmed Zakari & Co. (Chartered Accountants) are embarking on a series of webinars regarding the meaningful transformation of the Almajiranci system. This first webinar will introduce perspectives from policy makers, lawmakers, academics, traditional rulers, community leaders, Ulamas, Tsangaya teachers, Almajiris, and private sector institutions.
Alhaji Mohammed Hayatudeen
Welcome Remarks: Moderator

Dr. Bashir S. Galadanci
Sharing Research Findings

Dr. Hadiza Kere Abdulrahman
Sharing Research Findings

Dr. Usman Bugaje
Sharing Research Findings

HRH, Emir of Gombe
Traditional Ruler's Perspective

HRH, Emir of Dutse
Traditional Ruler's Perspective

Mr. Abubakar Suleiman
Private Sector Perspective

Dr. Bashir Aliyu Umar
Ulama Perspective

Hon. Hajiya Aisha J. Dukku
Lawmaker and Formal Educator Perspective

Dr. Farouk Umar
Tsangaya Teacher Perspective

Mal. Nasir Yahaya Alaramma
Former Almajiri Student Perspective

HE, Gov. Babagana Umara Zulum of Borno State
Public Policy and Governance Perspective

Dr. Mujtaba Ibrahim Abubakar Ramadan
Tsangaya Teacher Perspective
19 September, 2019: Effective Policing Strategies for Nigeria
Conference on 'Effective Policing Strategies for Nigeria' hosted by the Gusau Institute at the Sheraton Hotel in Abuja on 19 September 2019.
27 June, 2018: Abuja Forum Conference
The first conference of the Abuja Forum series was held on the 27th of June 2018 in Abuja, Nigeria at the Transcorp Hilton Hotel. The theme of the conference was 'A New Era for China-Africa Cooperation: Partnership for Peace, Security and Development', and it was co-hosted by the Gusau Institute (GI) and the Center for Nigerian Studies at the Institute of African Studies, Zhejiang Normal University (ZJNU), China.
The format of the conference was a morning session with former President Olusegun Obasanjo as keynote speaker on the topic 'Leveraging a China-Africa Partnership as a Change Agent for Sustainable Economic Development in Africa', followed by an afternoon session consisting of three syndicate sessions taking place simultaneously, and a concluding plenary session. The syndicate sessions respectively focused on 1) challenges of human security in Africa, 2) peace and security cooperation, and 3) future plans with China's Belt and Road Initiative (BRI) in mind.
Click here to download the keynote speaker's address.
5-18 March, 2018: Writer-in-Residence
Ishmael Beah, Sierra Leonean author and human rights activist who rose to fame with his acclaimed memoir, A Long Way Gone, will be in residence for two weeks in March 2018. Beah will host a creative writing workshop and visit schools during his stay. Details will be forthcoming shortly. You can read more about him on his website at www.ishmaelbeah.com.
5-8 July, 2017: KABAFest 2017
As part of its centenary celebrations, Kaduna State is introducing a literary event to its cultural calendar. The Kaduna Book & Arts Festival 2017 (KABAFEST) will feature nearly 50 writers, artists, actors, poets and performers who will share their fantastic work with us.
Download the KABAFest 2017 Programme (PDF) or visit the official website at kabafest.org.